The Huawei Mate 30 Pro has been officially announced, and it's arrived alongside the Huawei Mate 30. The Mate 30 Pro which is the more interesting of the pair, boasting a higher-resolution display, bigger battery and more advanced camera features.
In total Huawei announced four new smartphones at today's launch event in Munich, with the Mate 30 and Mate 30 Pro joined by the pricier Mate 30 5G and the exceedingly expensive Porsche Design Mate 30 RS.
We've got a run-down of all four new Huawei Mate 30 flagships right here, and we've had some hands-on time with the Mate 30 and Mate 30 Pro.
Huawei has now confirmed that none of these handsets come with Google's services (that's apps like YouTube, Gmail and the Google Play Store) onboard thanks to the ongoing Huawei ban.
That means you won't be able to download a variety of third-party services to these smartphones, and instead you'll be limited to the Huawei app store. You can read more about the issue here.
Huawei Mate 30 Pro release date and price
It's not yet clear which regions the Mate 30 phones will be available in – we expect them to be available in some European countries, but we'd pretty much write off any hopes of a US release. We're still waiting for Huawei to announce the Mate 30 Pro release date, but we'll update this section as soon as we know more.
Huawei's CEO has told those at the launch that the phone may still come to the UK, but it's still uncertain whether that will happen and if it does when.
The Huawei Mate 30 price is €799 (around $880 / £700 / AU$1,300 – we're still waiting for official pricing for the US, UK and Australia) which gets you 8GB of RAM and 128GB of storage.
If you fancy more storage space and slightly more premium features, the Huawei Mate 30 Pro price is €1,099 (around $1,200 / £970 / AU$1,700) which gets you 8GB of RAM and 256GB of storage.
Both of those devices only have 4G connectivity, so if you want a handset that can connect to the new 5G networks you'll need the Huawei Mate 30 Pro 5G, which costs €1,199 (around $1,300 / £1,060 / AU$1,900) and again gives you 8GB of RAM and 256GB of storage.
For those of you with a little more money (than sense) you can treat yourself to the Porsche Design Mate 30 RS which will set you back the princely sum of €2,095 (around $2,300 / £1,850 / AU$3,400) – but you do at least get 12GB of RAM and 512GB of storage for your significant outlay.
Huawei Mate 30 Pro design and display
The Huawei Mate 30 Pro has a large, 6.53-inch curved OLED display which Huawei calls its 'Horizon Display', offering an "ultimate viewing experience". At its edges, the screen curves at an 88-degree angle.
It has a resolution of 2400 x 1176, an 18.4:9 aspect ratio and support for HDR. Inside the notch there's a new gesture sensor, along with two 3D depth cameras and a selfie camera.
There's no visible earpiece on the front of the Mate 30 Pro, with the speaker built into the display, and there isn't a volume button on the side of the handset – instead the volume is controlled by tapping then sliding your finger along the curved side of the screen.
Round the back, Huawei has changed the shape of its camera setup, with a large circular bump housing four sensors.
The Huawei Mate 30 Pro has IP68 dust and water resistance, and will be available in four colors: Classic Black, Space Silver, Cosmic Purple and Emerald Green.
If those colors, or the glass finish they come in, don't take your fancy the Mate 30 Pro also comes in a Vegan Leather Edition, with two color choices: Orange and Forest green.
The Huawei Mate 30 has a larger 6.62-inch display, but with a lower 2340 x 1080 resolution and a 19.5:9 aspect ratio, plus a smaller 26.2mm wide notch.
The Huawei Mate 30 will also be available in four colors, with a glass finish: Classic Black, Space Silver, Cosmic Purple and Emerald Green, and it will also be available in the two vegan leather options. It's IP53 dust and water resistant.
Huawei went to great lengths on stage to explain just how compact its new flagships are, even though they have large screens, and it claims this makes the handsets easier to hold in one hand.
The new phones are effectively all-screen – there's some bezel at the top and bottom, and on the sides of the Mate 30, but it's minimized to the point of being non-existent.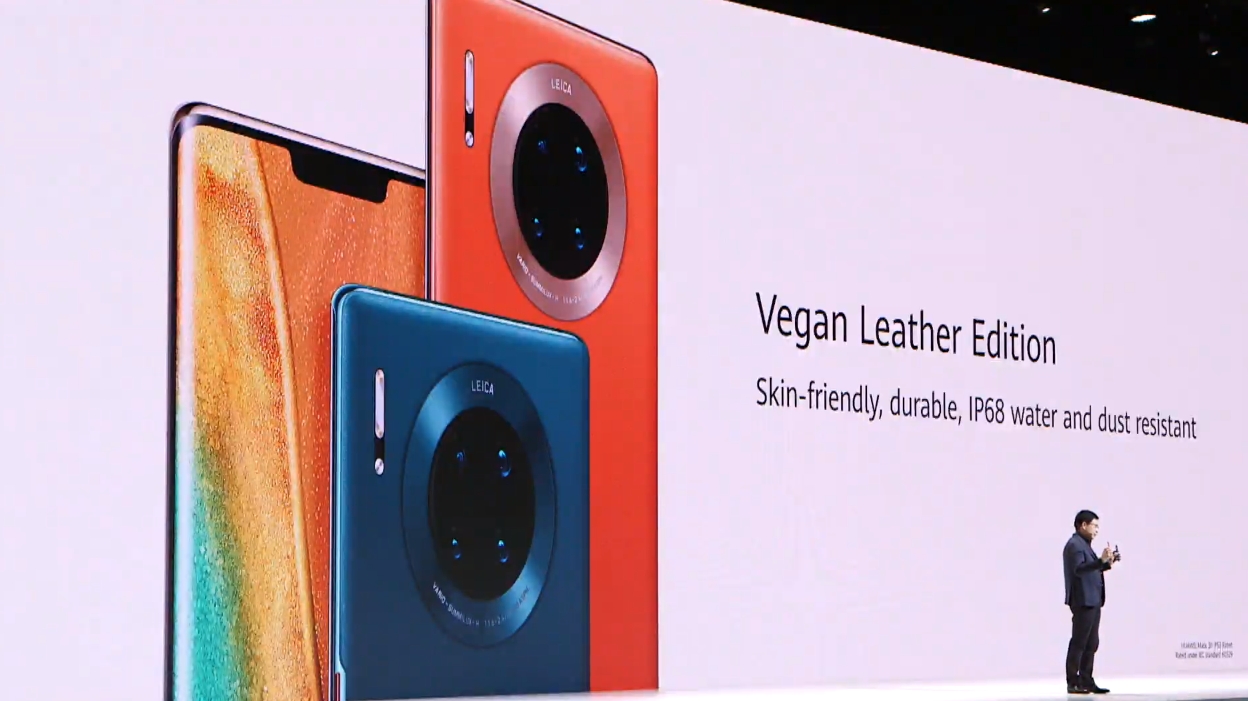 Huawei Mate 30 Pro specs
| | | |
| --- | --- | --- |
| | Huawei Mate 30 | Huawei Mate 30 Pro |
| Screen size | 6.62-inch | 6.53-inch |
| Screen aspect ratio | 19.5:9 | 18.4:9 |
| Screen resolution | 2340 x 1080 | 2400 x 1176 |
| Chipset | Kirin 990 | Kirin 990 |
| Rear cameras | 16MP + 40MP + 8MP | 40MP + 40MP + 8MP + 3D |
| Battey | 4,200mAh | 4,500mAh |
Huawei Mate 30 Pro cameras
The Huawei Mate 30 rear camera setup comprises a 16MP f/2.2 ultra-wide camera, 40MP f/1.8 super-sensing wide camera, 8MP f/2.4 telephoto and focus-assist laser. 
There's OIS and AIS image stabilization and support for a 3x optical and 30x digital zoom.
The Huawei Mate 30 Pro has a more advanced system, with four rear cameras which have been engineered in partnership with camera brand Leica.  
There's a 40MP ultra-wide cine camera, 40MP super-sensing wide camera, 8MP telephoto lens and a 3D depth-sensing camera. 
You also get dual OIS and AIS image stabilization, and support for a 3x optical and 30x digital zoom.
The Mate 30 Pro is a serious video recording machine too. There's support for 4K HDR+ 60fps capture, 7680fps ultra slow motion, real-time Bokeh video, 4K timelapse and low-light capture.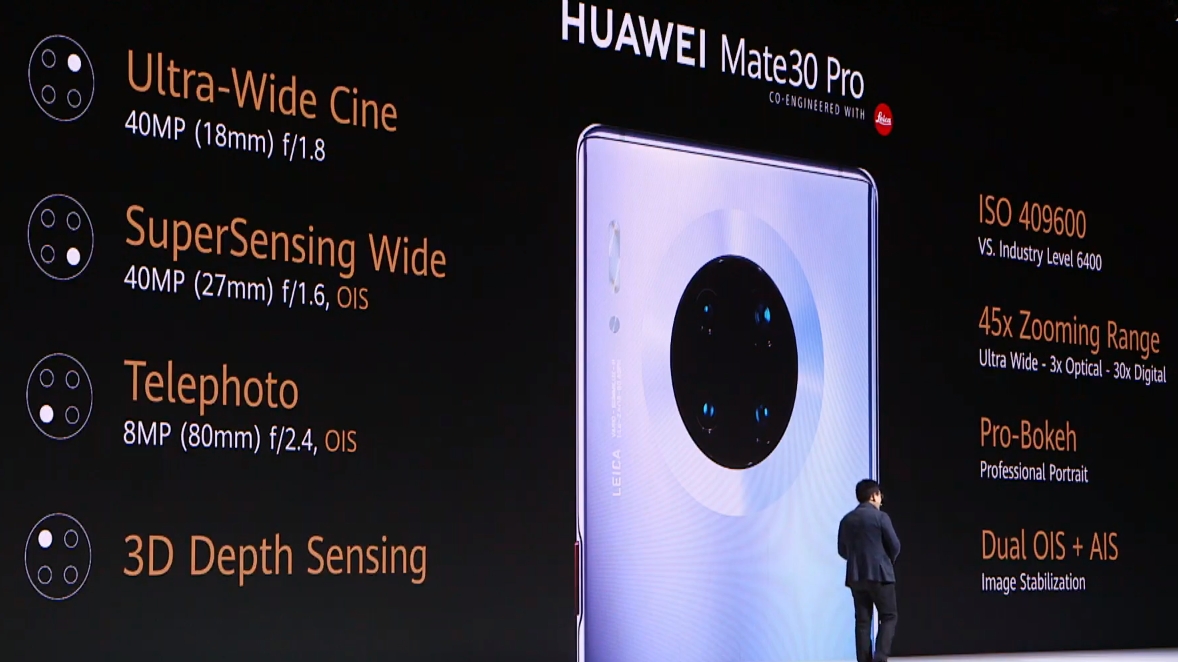 Huawei Mate 30 Pro performance and features
Both the Huawei Mate 30 Pro and Mate 30 pack in the flagship Kirin 990 chipset, which in the 30 Pro 5G also features a 5G modem. 
Huawei is promising that groundbreaking 5G speeds will be possible with the Mate 30 Pro 5G, although we'll have to wait to get our hands on review units to see if they can live up to those claims.
There's dual-SIM support, with both SIM cards able to support a 5G connection at the same time.
The Kirin 990 chip provides improvements in CPU performance, latency and GPU performance over the previous model.
The Huawei Mate 30 Pro comes with a 4,500mAh battery, while the Huawei Mate 30 gets a 4,200mAh power pack.
Both phones support super-fast 40W wired charging, and 27W fast wireless charging. Huawei has also doubled the speed of its reverse wireless charging, which allows you to use the Mate 30 as a wireless charging pad for other devices.
When it comes to the interface the Huawei Mate 30 and 30 Pro come with the firm's EMUI 10 interface which features its own dark mode, new animations and fresh color themes.
EMUI 10 supports an always-on display which can show you the time, date, battery and notifications – and it's not just a black and white display, with a variety of color and design options on offer.
The Huawei Mate 30 Pro, Mate 30 and Mate 30 Lite we're extensively leaked before launch, here's everything we learned ahead of the event.
What does Huawei's trouble with Google mean?
Before we dig into further leaks and rumors, it's important to address the fact the Mate 30 and Mate 30 Pro are unlikely to come with access to Google's services. That's likely to be a big problem for some users.
Analyst Dominic Sunnebo, Director of Consumer Insights at Kantar, told TechRadar, "If the Mate 30 does release without access to key Google apps, like Maps and YouTube, it will struggle to sell in any meaningful volumes across Europe. 
"Google apps are bread and butter for the majority of users and not having access is a risk few will be willing to take."
Suunebo continued, "Huawei has the scale and expertise to bring out an operating system capable of competing with Android from an interface and efficiency point of view, but without key Google apps it will not be a viable solution in Europe."
Huawei Mate 30 Pro news and rumors
Our closest look at the likely Huawei Mate 30 Pro design comes from leaked renders, showing a circular camera block and a curved screen with a notch. The standard Mate 30 has also been leaked with a similar design, but a smaller notch and a flat screen.
We've also seen a shot of the Huawei Mate 30 Porsche Design, which trades a glass back for a leather one and has a different camera arrangement, but otherwise looks similar to the leaked Mate 30 Pro. An image of a leather-backed case with a strap for this model has also leaked.
Then there's the Huawei Mate 30 Lite, which has a punch-hole camera rather than a notch, and the rear snappers aren't arranged in a circle. All of these can be seen below.
Specs alongside these images suggest that the Huawei Mate 30 Pro will have a Kirin 990 chipset, a 6.7-inch screen and a 4,000mAh battery.
We've seen a similar design previously, as a leaked render shows a circle camera block with the lenses aligned in an X shape. It's a futuristic design for sure, but it's rather surprisingly large, and could be obnoxious in physical form.
That circular block can be seen again in another leak (below), albeit without the 'X' configuration and oddly only seemingly housing three lenses. This leak also highlights the large notch, and seems to show a headphone port on the standard Mate 30, but not on the Mate 30 Pro.
While a design like the ones above is looking likely, we've also seen a Huawei patent which shows a phone case with space on the back for a different camera arrangement.
You can see the image below and based on that it looks like there could be room for five rear lenses, up from three on the Huawei Mate 20 Pro and four on the P30 Pro.
Of course, patents don't always become real devices, and even if this does get used it might not make it to the Huawei Mate 30 Pro, but it would make sense for Huawei to increase the number of lenses on its flagship, given that a number of other phones are doing the same.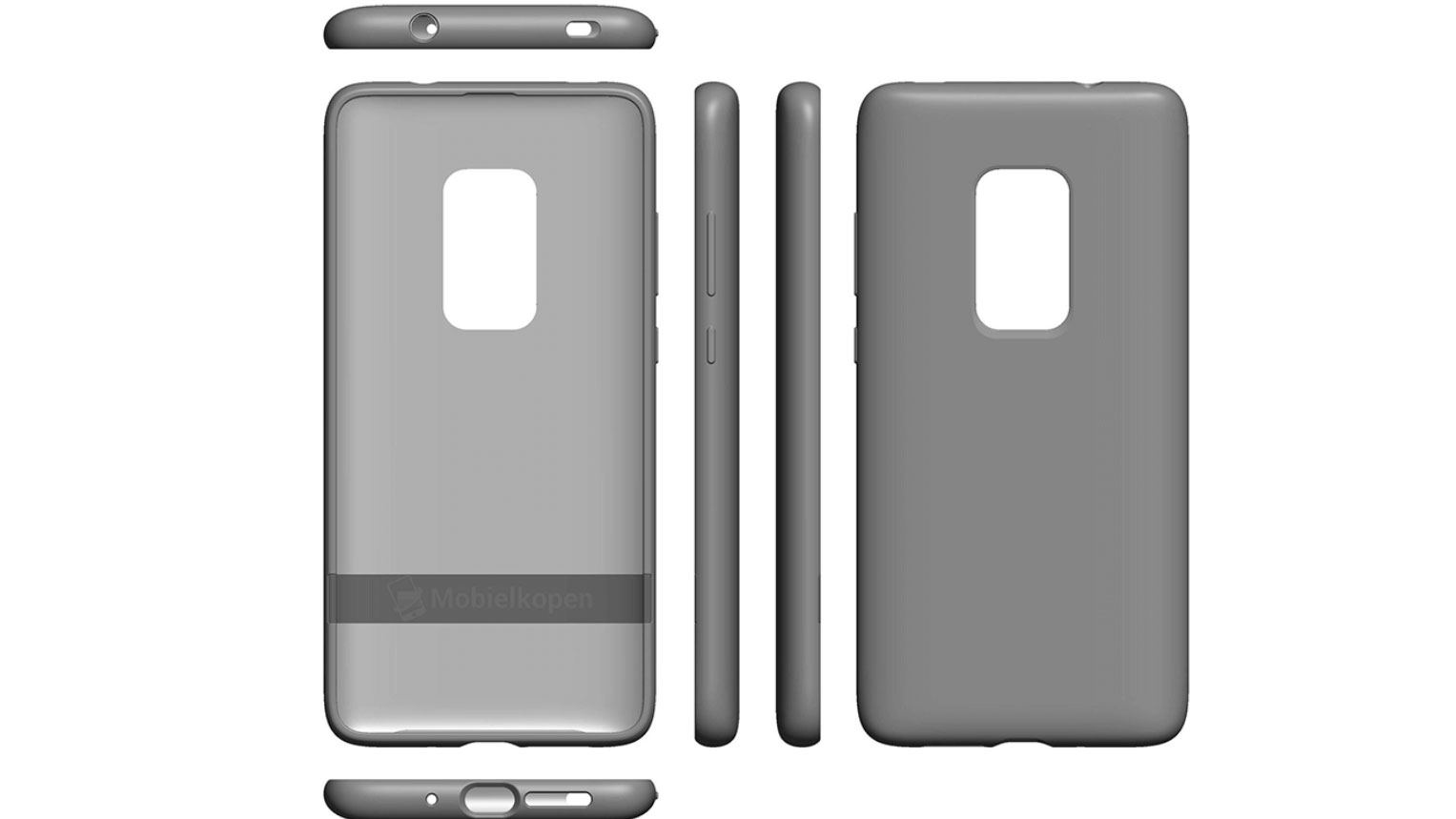 It's almost certain the Huawei Mate 30 series will come with 5G onboard, or at least one version of the phone will come with the next-gen internet tech.
The brand new Kirin 990 has been confirmed to feature in the next phones from Huawei, and 5G is one of the big improvements alongside better performance for generic tasks.
A spec leak from a SlashLeaks contributor seems to provide a lot of details about the upcoming phone included the fact it'll come with either 8GB or 12GB of RAM.
The leak, as you can see below, suggests the phone will only come with a 512GB storage size. The leak doesn't reference the standard Mate 30 though, so it may be we see different specs on that handset.
Another report suggests Huawei may be able to include 25W wireless charging, which should mean super quick recharge times for your phone when using wireless pads.
The Mate 30 Pro is also likely to have at least four rear cameras, given that the Huawei P30 Pro does, and it might have a similar design to that phone, including a tiny notch and hardly any bezel.
Having said that, multiple leaks have now shown a design with a larger notch, along with a curvier screen. The curves of the screen can be seen below.
But we've also seen an older set of renders supposedly showing the handset with a punch-hole rather than a notch. The over-sized camera block matches the cutout in the patent leak above, and appears to house at least four cameras.
On the front, this Huawei Mate 30 Pro leak suggests the handset will have dual front-facing cameras, surrounded by screen in a similar fashion to the Samsung Galaxy S10 Plus.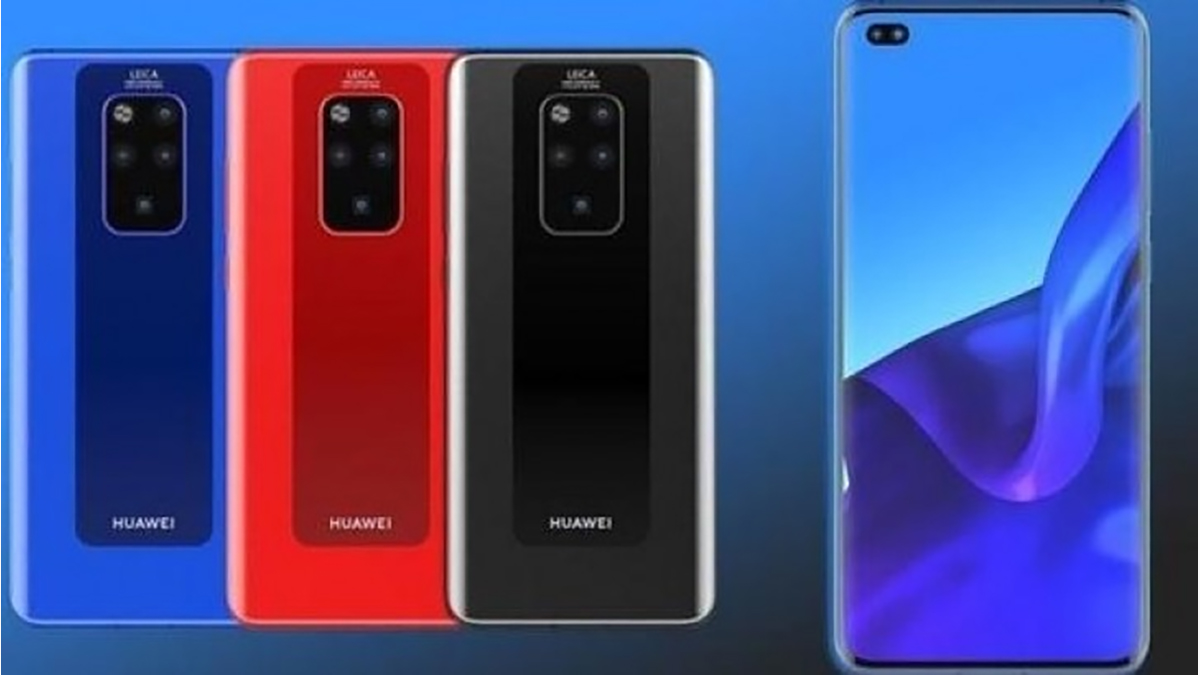 Big camera blocks are starting to become one of the major design points for phones set to launch in the second half of 2019, with the Google Pixel 4 also tipped to adopt a larger bump.
As well as the actual design of the cameras, we've heard a tiny bit about the camera capabilities, thanks to Huawei trademarking the phrases 'Cine Lens' and 'Camera Matrix'.
We're expecting the former to be a lens with specific features designed for video recording, but the latter is a bit of a mystery at the moment, as it could refer to many things.
Elsewhere, a leak has suggested that at least one of the phones will have four rear cameras, consisting of two 40MP lenses, an 8MP lens, and a time-of-flight (ToF) depth sensor.
On the front of the Huawei Mate 30 Pro, leaked images of the display show screen cut-outs for many cameras – more than for a dual-lens front-facing snapper, as some smartphones have, so it's possible that the device will have Apple-style facial unlocking.
There's going to be an extra Huawei Mate 30 device that isn't the Lite, normal or Pro version, and that's the Huawei Mate 30 RS Porsche Edition. We don't know much about this phone other than the fact Huawei has confirmed it itself, but we're expecting it to have a minor spec bump over the other Mate 30 devices.
On the eve of the Huawei Mate 30 launch, a final leak showed off everything about the Mate 30 Pro, which slightly takes the thunder from Huawei's sails for its launch event. That is, if the leak proves to be true, and we've no way of knowing if it is. There isn't long to wait to know for sure though.